News & Events
The AusSeabed group are running a Symposium on Seafloor Mapping in Australia—Progress, Discoveries, Applications. We are especially interested in attracting presentations that showcase the use-cases for seafloor mapping (for example industry/private sector applications that rely on bathymetry data such as: construction, renewable energy, deep sea mining etc…)
More information on the Seabed Mapping Symposium is available.
---
AusSeabed is now hosting an updated 50 m grid that contains data from 160 new surveys carried out between 2012 and 2018. This dataset alongside the 30 m Northern Australia Grid, the 30 m Great Barrier Reef grid, and the 5 m NESP grid are available on the AusSeabed Marine Data Discovery Portal with clip and ship functionality.
A full news article describing the update is available online: Seeing more of Australia's seafloor.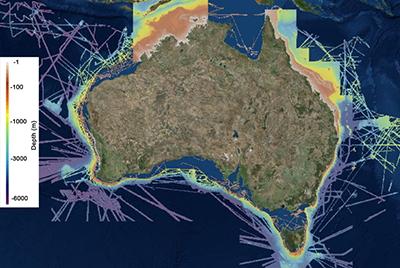 ---
James Cook University is calling for volunteers to help map the seafloor around the Great Barrier Reef to better protect the natural icon. "Many vessels on the Reef use relatively sophisticated echo sounders, combined with GPS to measure the depth of water and conduct safe navigation. They give a good picture of the seafloor, but the problem is the data are not logged – it just appears in the moment and then is lost," Dr Robin Beaman from JCU said. To take advantage of this data opportunity, the program installs SmartLog USB sticks on to vessels of opportunity to collect the data usually discarded from the ships echo sounder. This crowd-sourced bathymetry has the potential to make a great contribution to our understanding of the reef.
---
A PhD scholarship available at the School of Geosciences and Marine Studies Institute at the University of Sydney for someone to work on underwater acoustics. The scholarship is sponsored by the Defence Science & Technology Group (DST) is for 3 ½ years at the rate of $30k per year and is only available to Australian citizens. The project is on the sounds of the ocean and how they go together to form the soundscape of the ocean that provides the acoustic environment for marine mammals and also limits sonar performance. It would be mainly experimental work with some modelling: measurements, analysis and interpretation, testing models against measurements etc. with opportunities for some work at sea.
The supervisor would be Adjunct Professor Doug Cato (University of Sydney) with auxiliary supervisors Associate Professor Rob McCauley of Curtin University and Dr Yong Zhang of DST.
Applications close on the 10 of April.
---
The Nippon Foundation of Japan has provided funding for GEBCO to train a new generation of scientists and hydrographers in ocean bathymetry. The 12-month course, leading to a Postgraduate Certificate in Ocean Bathymetry (PCOB), has been held at the University of New Hampshire, USA since 2004. The opportunity will be paid for by the Nippon Foundation/GEBCO and includes an annual stipend.
Applications for the training support are required as soon as possible and no later than 31 of March 2019.
---
Wellington: 4–6 March, 2019
An open invitation has been issued for the inaugural Seabed 2030 South and West Pacific Mapping Meeting. The objectives of the meeting are as follows:
Establish a Regional Mapping Committee with representatives from relevant organizations,
Identify sources of bathymetric data,
Discuss methods and protocols of data sharing, and management,
Identify upcoming mapping expeditions; and
Discuss all matters related to the efficient and smooth operation of the project
If you are interested in attending please register here or for more information you can download the flyer.
---
Saint-Petersburg: 13–17 May, 2019
GEOHAB (Marine Geological and Biological Habitat Mapping) is an international association of marine scientists studying geological, biological, and physical oceanographic processes as indicators of benthic habitats and ecosystems and used as proxies for biological communities and species diversity.
Key dates:
This event will be live streamed from 14–16 May, 2019.
---
Freemantle: 7–11 July, 2019
The theme of AMSA 2019 will focus on science that will contribute to safeguarding the health of our oceans and marine life while also sustaining the economic and societal benefits that accompany a growing nation. Invited national and international plenary speakers will impart their knowledge relating to the blue economy, and symposia topics will be inclusive of a wide range of disciplines including the critical blue economy challenges outlined in Australis's National Marine Science Plan.
Key dates:
August 2018 Call for Symposia Opens
September 2018 Call for Symposia Closes
December 2018 Early Bird Registration opens
Call for Abstracts open
March 2019 Call for Abstracts Closes
April 2019 Abstract Outcomes and Early Bird Registration closes
7–11 July 2019 Conference
Please keep in mind that dates are subject to change, for more information please visit the AMSA 19 website.
---